So in late 2010
Charlie McDonnell
- who I mentioned in my first real blog post, Dissed by a Puppet -was challenged to a 'Nerd Off' by YouTuber
skassi20
, which I thought was an absolutely brilliant idea and decided to do a video of my own to display my nerdy, geeky collection of nerdasmic geekisms.
However it wasn't until I pressed record for the third time that I remembered why I stopped doing YouTube videos; I suck at them. I'm awkward and unfunny. I speed through everything to get it over with and hate how I look on camera.
So I scrapped the idea... Until Now!
With this recent development of written word online blogging- that I'm absolutely certain must have been developed after video blogging because video tech is much simpler than letters -I decided to have another go, but in the form of a blog post.
I initially considered writing it all out as a CV, applying for the position of nerdy, but then I... just... didn't.
Plus a CV wouldn't have looked very good with pictures all over it, and how could you truly believe my nerdisms without pictures? (
Pics or it didn't happen
, right?)
So here we go...
First of all, I'm a fantasy author- unpublished -who wrote a really, really bad harry potter rip off when I was sixteen, which I believe is still available to buy in America (please don't).
There is no volume 2


My most recent writing excursion took me on a 1000 page adventure that I've had to cut into two 500 page novels.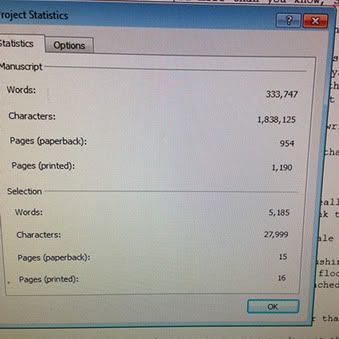 50 chapters edited, 20 to go.
Like Charlie, I have an abundance of geeky t-shirts and tops.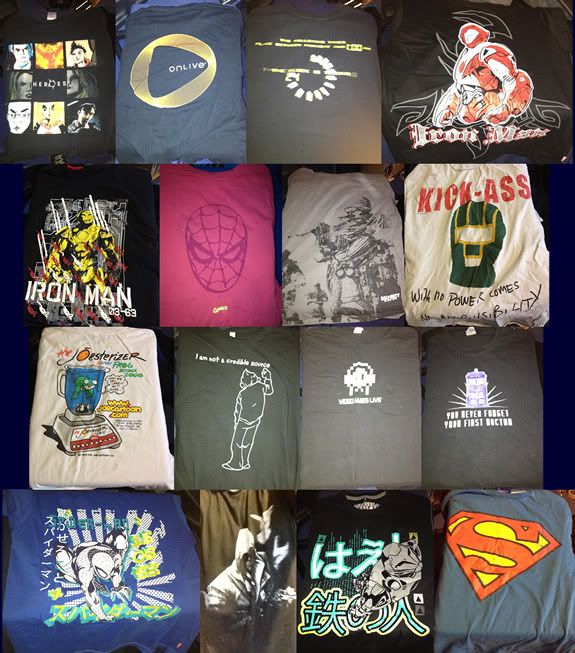 Heroes, OnLive, 24, Ironman, Ironman, spiderman, COD; Black Ops, Kick Ass, Joecartoon.com, Least I could do, Video Games Live, Doctor Who, Spiderman, Assassins Creed, Iron Man, Super Man
I also own four geeky baseball caps, which is ridiculous because I never wear them; my head is too big to look good with hats.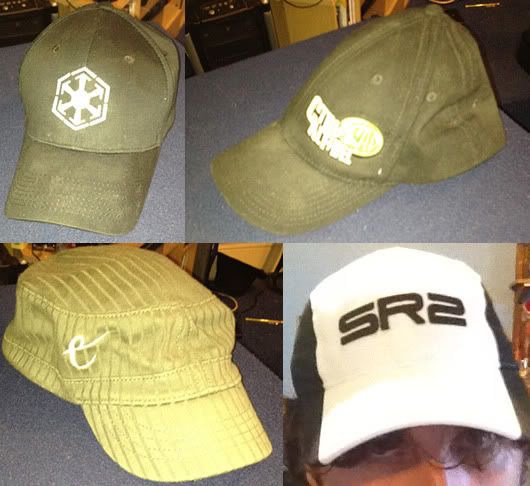 Star Wars: the old republic, Ctrl+Alt+Del, Escapist magazine, Mass Effect 2
This is a Mass Effect N7 backpack I bought on impulse (and have not yet regretted, or used).
My book shelf is filled with a mixture of Science-Fiction, Fantasy, Comic Books and Manga, which (combined with the manga and books I've stored away) incidentally is worth a conservative estimate of £1500, you know... if people paid that much for that sort of thing.
I have a little sci-fi display above my computer with models from some of my favourite sci-fi mediums.
I own a 1/500 limited edition Tali'zorah vas normandy lithograph which I havent removed from the packaging yet.
I have a collection of Magic the gathering cards (which I rarely use but only because my MTG friends live nowhere near me)
I am in the process of writing a mature (not erotic) pokemon fan fiction and a dr who fan fiction. Neither of which are particularly good.
And that's that. I hope that I've proved my nerdy-geekyness to you, if you want to respond to this with your own list, feel free to comment me up.
Une vidéo sur youtube
- James